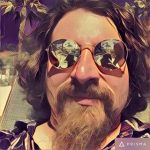 Toasted Jams is the premier source for Jambands, Funk, and Soul and your guide for live music in the PNW. Tune in Thursday's from 7-9.  Follow Toasted Jams on Facebook for up to date show and event information.
Subscribe: htp://valley1049.org/feed/podcast/toastedjams/ or on iTunes
Listen to archives Toasted Jams episodes below.

Toasted Jams E55
What's up!
On Toasted Jams today, our scene covered:
Emancipator 2018-03-30 @ Showbox SoDo, Seattle
Will Bernard 2018-04-04 @ Tractor Tavern, Seattle
Jah Sun 2018-04-06 @ Jazzbones, Tacoma
Aoife O'Donovan 2018-04-06 @ Neptune, Seattle
Big Something 2018-04-07 @ Tractor, Seattle
Anders Osborne 2018-04-08 @ Triple Door, Seattle 2018-04-08 @ Triple Door, Seattle
Morgan Heritage 2018-04-18 @ Nectar, Seattle 2018-04-18 @ Nectar Lounge, Seattle
Polyrhythmics 2018-04-21 @ Nectar Lounge, Seattle
ReBirth Brass Band 2018-04-21 @ Tractor, Seattle 2018-04-21 @ Tractor Tavern, Seattle
Khruangbin 2018-04-26 @ Neumos, Seattle
Roots Of Creation 2018-05-03 @ Nectar, Seattle 2018-05-03 @ Nectar Lounge, Seattle
Con Brio 2018-05-12 @ Nectar Lounge, Seattle 2018-05-12 @ Nectar Lounge, Seattle
King Gizzard & The Lizard Wizard 2018-06-06 @ Showbox SoDo, Seattle
Michael Franti 2018-06-24 @ Chateau Ste. Michelle Winery, Woodinville
The John Butler Trio 2018-06-24 @ Chateau Ste. Michelle Winery, Woodinville
Dead and Company 2018-06-29 @ The Gorge, Quincy
Béla Fleck and the Flecktones 2018-07-13 @ Chateau Ste. Michelle Winery, Woodinville
Jerry Douglas 2018-07-13 @ Chateau Ste. Michelle Winery, Woodinville
Phish 2018-07-20 > 22 @ The Gorge, Quincy
See or listen to the full show below.
(more…)